Horario especial del 5 al 11 de Diciembre 11:00 a 19:00
Monday to Friday from 11:00 to 14:30 and 16:00 to 19:00 — Weekends and holidays from 11:00 to 19:00
Medieval Combat Training
Come to know the only contact sport that allows you to relive the combats of more than 700 years ago.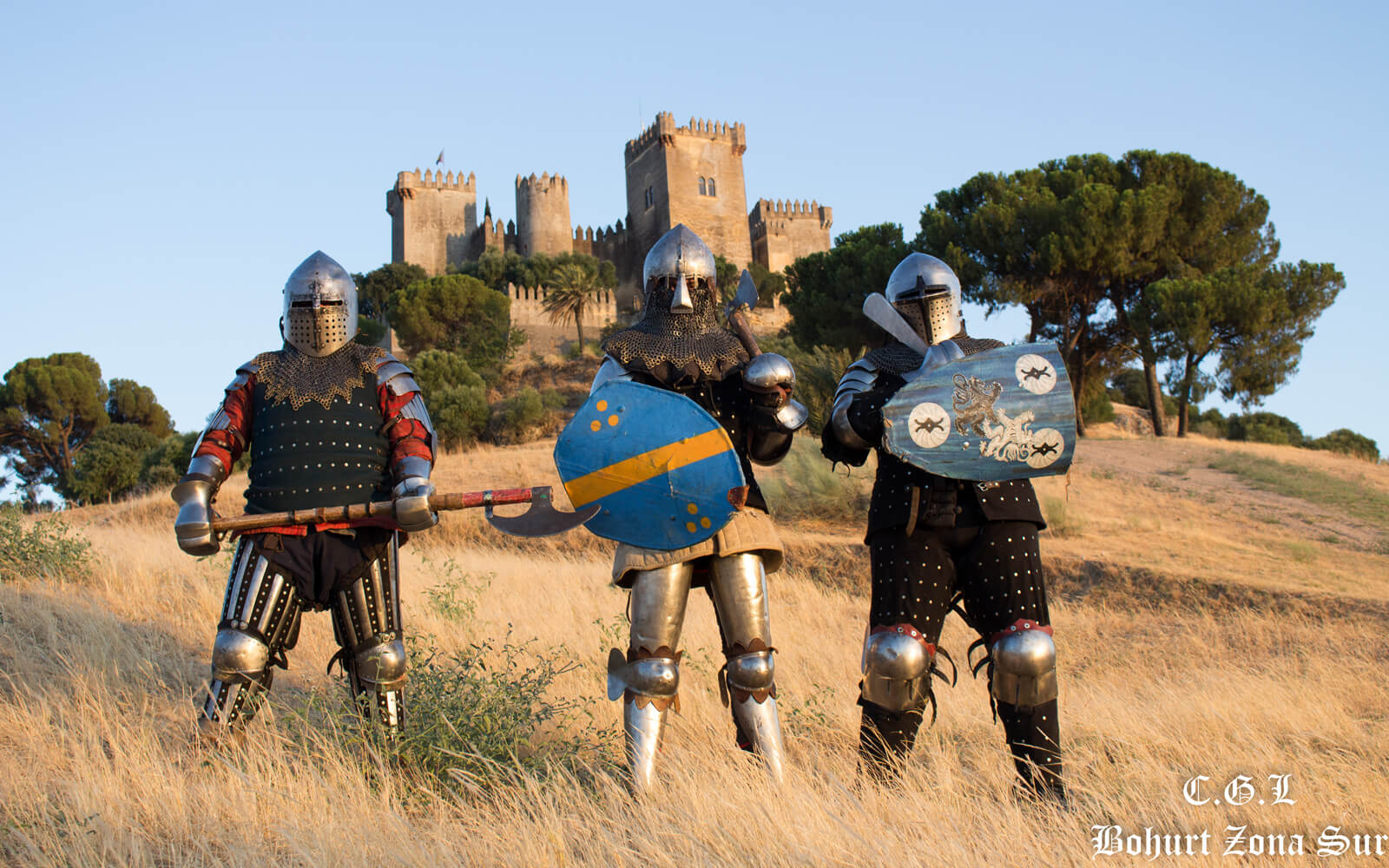 Every month, the medieval combat club BOHURT ZONA ZUR – a member of the national MEDIEVAL COMBAT league, whose training headquarters is at the Almodovar´s Castle.
This sport was not introduced in Spain until relatively recently, and participants must adhere to a strict set of criteria in order to practice it: they must be physically in shape, highly competitive, and strive to preserve historical accuracy which must be endorsed by the Committee of the International Federation of Medieval Combat (IMCF). Therefore, their helmets, suits of armour, weapons and even the decorative beads they carry must all be historically authentic.
The suits of armour are exact replicas of those worn in the 15th and 16th centuries in terms of their weight, external decoration and size, just like the weapons used by participants in an effort to defeat their opponents, whose historical accuracy is completely assured and which has unwarranted appeal for those who enjoy contact sports as well as seeing history recreated before their eyes as a consequence of this spectacle.
Come and experience a new adventure in Castillo de Almodovar, lose yourself in the heat of battle, be transported back in time and as a spectator within this historic setting see history authentically preserved and re-enacted as you learn how battles were fought between our ancestors and their enemies in centuries gone by. Recreations of medieval history last for more than two hours – be warned, these pugnacious warriors will make you fear for your life!.
Rates
Adults
from 14 to 65 years
9,00 €
Reduced
Students and seniors
7,50 €
Kids "Carnet de la Banda"
from 5 to 13 years
0,00 €
Next dates
November 13, 2022
December 11, 2022
January 15, 2023
February 19, 2023
March 26, 2023
April 16, 2023